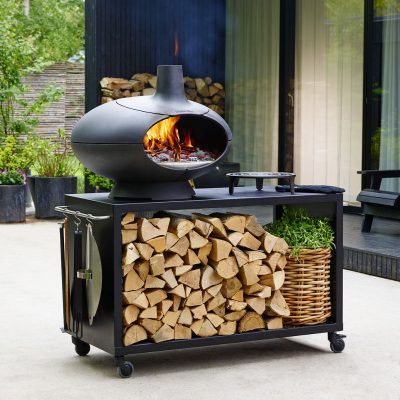 Forno Deluxe Garden Package
Morsø's Forno Garden set includes the accessories you need to grill, roast and make delicious desserts in your Forno Outdoor Oven. If you want to smoke fish dishes, all you need is the door for the Forno.
This Garden Set consists of: Forno Garden Table, Tuscan Grill, Ash Scraper, Fire Tongs, Flue Pipe, Pizza Peel, Forno Door, Forno Cover and a Morso Cook Book,
£2,328.00


Oven Size. Ø = 750mm, H = 620mm
Table Size.  (W x H x D): 60 cm×80 cm×120 cm. Weight: 60 kg
Forno Oven.
The Morsø Outdoor Oven spreads warmth and enables you to prepare delicious food – from juicy steaks to smoked salmon, homemade crunchy pizzas or delicious lamb steaks in minutes.
Internally, the oven is shaped like an Italian stone oven. The wide, low ceiling-ed firebox produces optimal radiant heat and plenty of space for firewood to be pushed aside when it's time to cook. The oven is made of solid cast iron to last for many seasons if used and cared for correctly.
Forno Oven Only
£1,199.00


Oven Size. Ø = 750mm, H = 620mm
We are unable to take orders online but please call us on 01225 891469.
If the product is not in stock we can reserve one for you with no deposit and take payment prior to dispatch.
We can take payment either by card or bank transfer.