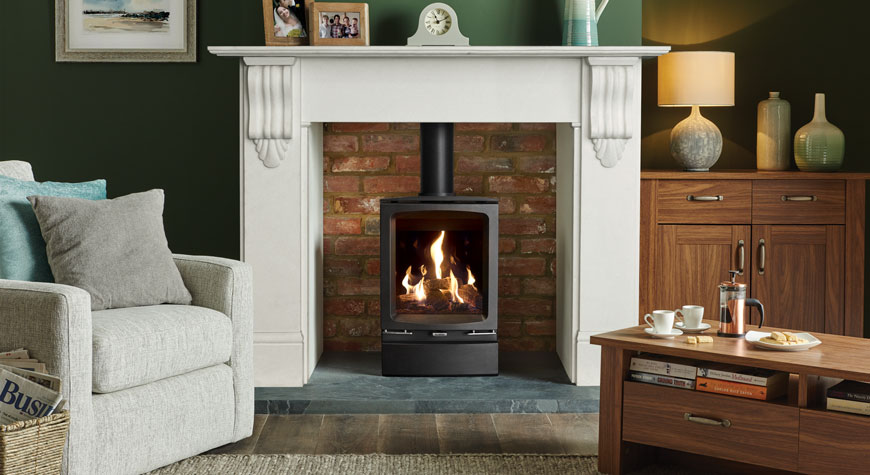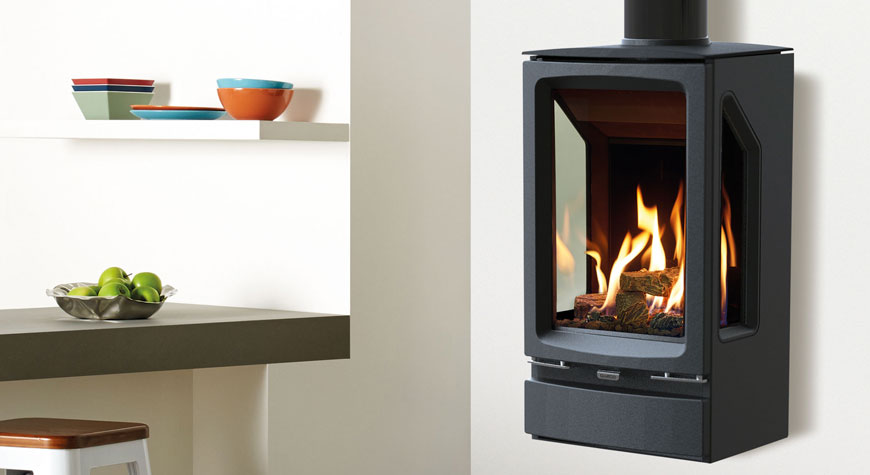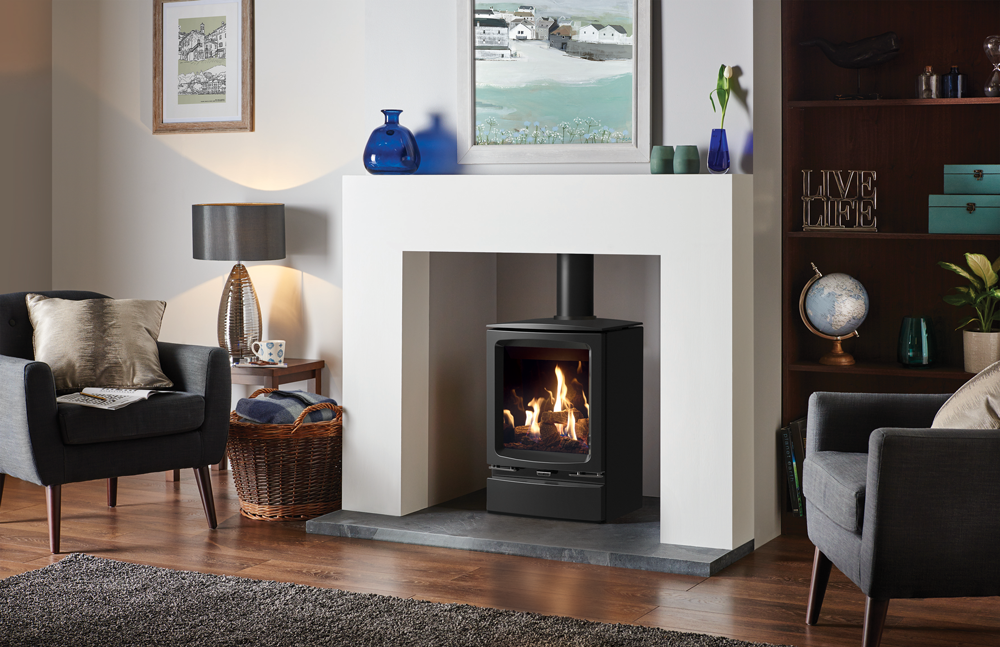 Vogue Midi.
Elegantly styled to fit equally well in either contemporary or traditional settings alike, the Gazco Vogue Midi gas stoves feature a cast iron door and top plate with refined curves and bevelled edges. For increased presence, Midline models are mounted on a matching log store base that can be used to house chopped logs to add to the woodburning aesthetic.
Creating breathtaking flame visuals, Vogue Gas stoves feature a highly realistic log bed and a polished EchoFlame Black Glass lining that provides a stunning, multi-sided reflection of the flames. Designed with the very latest gas fire technology, these cutting edge stoves provide an ample 4.7kW of heat at 80% efficiency.
For greater convenience, these stylish stoves can be upgraded with a Programmable Thermostatic handset which allows you to pre-set the stove to provide heat at selected times or temperatures.

---
 Vogue Midi T.
The versatile Gazco Vogue Midi T gas stove range offers stunning flames and a high efficiency heat output of up to 84% efficiency. Taking the elegant styling of the smaller Midi range, the Midi T's bevelled cast iron exterior encases a new taller firebox, which offers a three-sided view of the impressive flame visuals.
Vogue Midi T stoves feature a highly realistic log-effect fuel bed reflected on multiple sides by Gazco's EchoFlame Black Glass interior. Each ceramic log is positioned to resemble a real wood burning fire, creating varied and natural flames.

---
Vogue Midi T Wall Mounted .
This contemporary stove is available as a Midline version with a taller base, which can be filled with logs to add to the wood fire aesthetic.
For an alternative installation to the standard and Midline versions, the Gazco Midi T Wall Mounted gas stove makes for a strikingly contemporary statement. This floating installation can be either rear or top flued depending on your preferences and is available as a balanced flue model only.
All Vogue Midi T models can be upgraded with a remote control allowing you to adjust the flames and heat without leaving your armchair. There is also the option of a Programmable Thermostatic handset, which allows you to preset your stove to turn on at specific times and temperatures.
---
Body material - Steel

Gas type - Natural Gas / L.P.G


Rated Output - 2 - 4.8 kW

Efficiency  Conventional flue - 78%. Balanced Flue - 80%


Fuel bed - Logs
| Model | Height (A) | Width (B) | Depth (C) |
| --- | --- | --- | --- |
| Vogue Midi T Wall Mounted (BF) | 776mm | 416mm | 348mm |
| Vogue Midi T (Balanced Flue) | 776mm | 416mm | 348mm |
| Vogue Midi T Midline (Conventional Flue) | 928mm | 416mm | 367mm |
| Vogue Midi T Midline (Balanced Flue) | 928mm | 416mm | 348mm |
|   |   |   |   |
| Vogue Midi (Conventional Flue) | 639mm | 416mm | 367mm |
| Vogue Midi (Balanced Flue) | 639mm | 416mm | 348mm |
| Vogue Midi Midline (Conventional Flue) | 791mm | 416mm | 467mm |
| Vogue Midi Midline (Balanced Flue) | 791mm | 416mm | 348mm |
|   |   |   |   |
| Vogue Midi T Wall Mounted (BF) | 776mm | 416mm | 348mm |
| Vogue Midi T (Balanced Flue) | 776mm | 416mm | 348mm |
| Vogue Midi T Midline (Conventional Flue) | 928mm | 416mm | 367mm |
| Vogue Midi T Midline (Balanced Flue) | 928mm | 416mm |   |